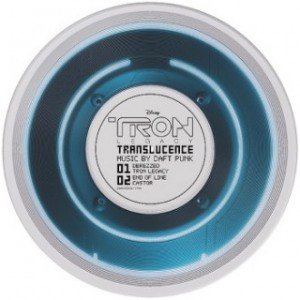 Now this would have made Record Day extra special if you made a purchase of this last week.
Daft Punk has released a limited edition 10 inch clear vinyl disc featuring 4 tracks.

3 tracks are from the soundtrack and one previously unreleased song (which was only available on the special edition bonus cd of the Tron Legacy soundtrack album).
The clear vinyl disc features an image of the identity disk from the Tron Legacy movie and comes in 3 different versions of the vinyl. Each will have a different colour ring around the disk – blue, yellow or red and is wrapped in clear cellophane sleeve.
Tracks:
1. Derezzed
2. Tron Legacy
3. End of Line
4. Castor (*** previously unreleased song)
Get yourself online and you can pick this up from suppliers for around $33 USD.
This might just fill the gap until Daft Punk announce a tour in 2011/2012.