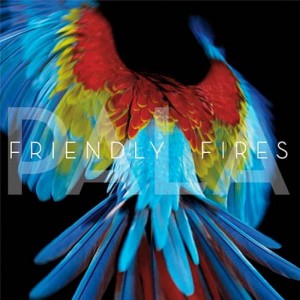 The Friendly Fires new album 'Pala' has been released in Australia and is due for release in the UK on May 16th and May 24th in the US.

The boys from St Albans, England have come a long way since being labelled in 'The New School' of hot young talent in the September issue of Mixmag Magazine in 2008.
Their first album was released in September 2008 and was shortlisted for the Mercury Prize in 2009.
I was lucky enough to catch these guys live in July 2009 at one of their only live sideshows in Australia at The Prince Bandroom, St Kilda. They'd been on my radar since 2008 and these guys sweated quality music through their pores. It was an awesome night and has stayed memorable. They definitely set a benchmark in live performances that not many bands that I've seen since have surpassed.
Their quality packed 1st album release (and subsequent CD/DVD re-issue with Kiss of Life) was a percussion filled dance-athon that slipped past a lot of people 2 years ago. At the time, I remember feeling outraged that a certain Australian music store (that shall remain nameless) had their CD in their bargain bin for $9 not long after it was released. Then again, that didn't surprise me then and doesn't surprise me now.
This all leads me to their new album release 'Pala' for which the Australian, UK and US media have slowly been working up to a frenzy on the back of their recent festival tours and up coming Splendour in The Grass attendance in Australia.
I was cynical that their second album would be able to repeat the musical feats of their self titled first release. However, after one listen alone, my fears have been cast adrift. They have managed to bring the feel of their live percussion sound into the recording (that they do so well in front of a crowd) and managed to create an album that on first listen at least equals the sound and vibe of any of their previous work. In fact, the more I listen to it whilst writing this, the better it is getting and believe me it is good.
The album highlights include the tracks Blue Cassette, Hurting, Pull Me Back To Earth and if there was ever a song that you should be playing on your summer vacation, Hawaiian Air is the one for you. Hurting sounds like Daft Punk and Aeroplane have dropped in to assist on production and Pull Me Back To Earth harks back to the guitar sound of Paul Simon on Graceland with a dash of Vampire Weekend.
This will be one of the big releases of 2011 and you'd be a fool not to give it a go as by Summer 2012 festival time in Australia, these boys are going to be big stuff. As far as live shows go, they've announced sideshows for Splendour in The Grass in 2011 and if they should do the same for any other timely festivals around the globe. I'd recommend that you jump at the chance to purchase this album and invest in some tickets to their gigs.
If you buy the album through iTunes, it should be noted that you get the additional track 'Strangelove' which is a cover of the Depeche Mode track. In the meantime, here is a snippet of Blue Cassette: